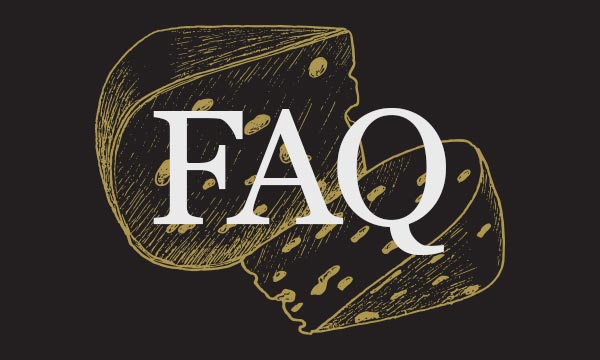 Fromage Associated Questions
Here are a few of the questions we get asked the most. If you don't find the answer you are looking for, please contact us.
Contact us
Collapsible content
WHAT IS RENNET?

Rennet comes in either a traditional form or vegetarian form. Traditionally, rennet is made using a mixture of enzymes extracted from the stomachs of young calves, kids, or lambs. It transforms the liquid milk into a solid curd, which is the first step in cheese making.
Vegetarian rennet is made from moulds that produce an enzyme very similar to that of animal rennet and is used to turn milk into a curd, in the same way as traditional rennet.
MY HARD CHEESE HAS BLUE VEIN IN IT

It is not uncommon to find a vein of blue in farmhouse cheese! The blue mould often occurs when oxygen has been allowed into the cheese, whether this is through a gap in the cloth or a crack in the rind. The flavour is not unpleasant and is often considered a beneficial characteristic.


We also issue guidance to our cutting team and they are aware of how much blue vein is acceptable in the cheeses. However, if you have any questions or are unhappy with the level of blue then please send over a picture to us and we will be happy to replace it for you.
WHAT IS THE DIFFERENCE BETWEEN PASTEURISED AND RAW MILK CHEESE, AND WHY DOES IT MATTER?

Raw milk has not been heat-treated or pasteurised and contains bacteria, enzymes and flora that is not found in processed milk. Not only does this add character to the milk and cheese, but these elements will also vary from region to region, creating a distinctive style in particular cheeses.

Where the milk has been pasteurised, or heat-treated, this means it has been processed to remove undesirable bacteria. Whilst this destroys pathogens, it also destroys the beneficial characteristics and nuances that are often sought after in cheese.
All our cheese is clearly labelled as pasteurised or unpasteurised to make things easy. We understand that some health conditions (i.e.. pregnancy) will restrict the types of produce that can be consumed. If you have any questions or concerns, please do not hesitate to get in touch.
WHAT MAKES CHEESE GO BLUE?

Blue cheese is created when the cheesemaker adds bacteria and allows oxygen to enter the cheese. This creates a mould which is designed to break the cheese down and give it a stronger flavour.

The quantity of blue varies from cheese to cheese, and batch to batch. Sometimes there is a lot of blueing and the flavour is quite strong, and other times the blueing is less and the flavour milder. Due to the nature of farmhouse production, there is sometimes a variation in batches, but we are always tasting and testing to ensure the cheese is up to standard.
CAN I EAT CHEESE IF I'M PREGNANT?

We cannot offer any medical advice on cheese. We do not recommend that anyone who is pregnant eats cheese that contains raw milk. We do not recommend eating washed-rind, soft, semi-soft cheese or blue cheese. It is better to stick to aged pasteurised cheese and avoid any cheeses that have the appearance of moulding.
CAN I EAT THE RIND?

Some cheeses have edible rinds, and some do not.

The rind on wax-coated cheeses is shiny and has a waxen texture, so is quite easily distinguishable. The wax will not cause any harm but will taste unpleasant and should not be eaten!

Most rinds on our cheeses are edible, it really just depends on personal preference. Some rinds add a mushroomy and earthy flavour to the cheese, such as Taleggio and Tomme de Savoie, whilst others add a strong lactic flavour.

We recommend you try a small piece of rind to start with, and see how it tastes. While some rinds can be quite bitter, depending on personal palette preferences, this can be quite an enjoyable flavour.
HOW SHOULD I STORE AND SERVE MY CHEESE?

Always bring the cheese to room temperature before serving.Cheese should always be served before the pudding, as it does not taste as great after the sweetness of dessert.Some cheeses prefer to be kept cooler, and others warmer, but most are quite happy between 8°C and 15°C.Our wax paper wrapping keeps the cheese in good condition, allowing it to breathe to avoid the build-up of excess moisture.Store the cheese in a cool pantry, cellar, or in the refrigerator, preferably in the lower drawer.Do not store the cheese with other strong-smelling foods.Avoid eating rinds that are covered in wax.The most important thing to keep in mind when cutting a cheese is to cut it equally, to ensure everyone has a fair share of the inside and the rind.If stored correctly, your cheese should last between 10-14 days.
WHEN SHOULD I TAKE MY CHEESE OUT OF THE FRIDGE BEFORE SERVING?

A rough guide is to take your cheese out the fridge an hour or two before eating it. If the cheese is too cold it will taste bland, so needs to be brought up to room temperature to allow its flavours to develop.

Ensure the cheese is kept wrapped when bringing to room temperature, to remove the possibility of the cheese drying out.
HOW LONG WILL MY CHEESE LAST?

If stored correctly the cheeses should last between 10-14 days.
HOW MUCH CHEESE TO BUY?

Generally, we would recommend roughly between 100 and 150 grams per person for after dinner, and a bit more if cheese is the focus of the meal.

If you are buying cheese to serve over a couple of days, we would advise you buy larger pieces of cheese as not only does it look better on the board, but keeps better for longer as well.

If you are at all unsure, please give us a call and we will be happy to have a chat and offer some advice.
HOW DO I PAIR CHEESE AND WINE?

The lighter and fresher the cheese the crisper and fruitier the wine should be

Sweet wine contrasts very well with a higher acidity cheese.

Not all red wines pair well with cheese. fruity and light wines are recommended.