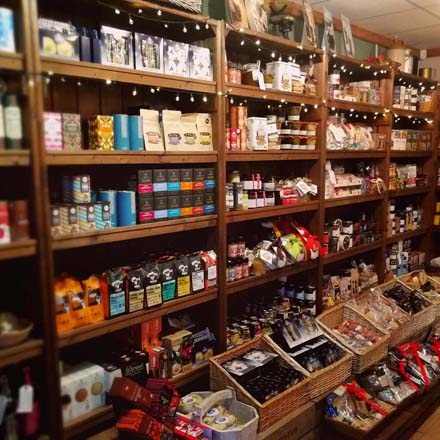 Fill up on all your Christmas goodies!
Get into the Christmas Spirit with our Deli's selection of festive favourites. Stock Up Now and make this Christmas season extra delicious!
Visit us!
Where it all began
Food was always a big part of my childhood, devouring cheese and olives with Italian friends and visiting the iconic Italian delicatessen, Lina Stores in Soho, a cornucopia of delicacies.
Once old enough, I left London and spent a couple of years travelling through Europe and the Middle East.  Enjoying and sampling food all along the way.  In Israel, I met a couple from Ullapool and on my return, I was invited up for a Hogmanay party.  Instantly I fell in love with the beauty of the Highlands and I knew that I wanted to make Ullapool my home.
After many years in the Village and once my children had created their own paths, I needed a new challenge. I naturally gravitated back to what I knew and loved – food!  My aim was to recreate a family-run deli based on the ones I would visit in London.
It would be something different for Ullapool, something locals and tourists could enjoy and one that would capture memories of holidays, travel and alfresco living, whilst also showcasing the wonderful produce Scotland has to offer.
After months of travelling around Scotland researching the market, West Coast Delicatessen opened its doors in January 2013.
Shân Tunsley, Owner West Coast Delicatessen
Our Team
Shân

Owner, West Coast Deli

Favourite Cheese:
Lanark Blue

Richard

Job Title:

General Manager


Favourite Cheese: Hebridean Blue

Jo

Job Title: Store Manager


Favourite Cheese: Montagnolo

Our Deli Family

These are the people who do all the work. Whether front of house or behind the scenes, past or present, we wouldn't be where we are without all their hard work for which we are eternally grateful.
Artisan Cheese

We pride ourselves on the
selection and quality of the farmhouse and artisan cheeses in our counter, from small-scale Scottish producers through to the all-time continental favourites.

Charcuterie

Our range of cured meats includes award-winning venison and Scottish pork salami from Great Glen Charcuterie and the finest Wiltshire ham from Dukeshill.

Scottish Fine Foods

Choose from award-winning luxury pate, Stornoway black pudding, organic biscuits from the Isle of Mull and so many other tasty treats from across the nation.

Deli Kitchen

Ideal for when you need
to grab a quick bite to eat.  Our freshly made rolls, homemade soups, salads, bridies, sausage rolls and quiche go down an absolute treat. 

Locally Baked Bread

There is nothing like warm
bread straight from the oven. We love our local Ullapool baked artisan bread, delicious sourdough loaves, baguettes and focaccia are delivered twice weekly.

Home Baking

Why not try one of our brownies, an Ullapool legend! We have a great
range of cakes including gluten-free and vegan options all of which are baked in-house here in our tiny kitchen.

Hot Beverages

Our baristas are on hand
to serve you the perfect cup of organic fairtrade coffee.  Or, how about a decadent rich velvety
fairtrade hot chocolate?

Food Gifts

We have pasta makers,
brie bakers, cheese knives, coffee grinders or as a memory of your visit, why not pick up one of our bespoke bags or wooden cheese boards, they make the ideal gift.